20 DC characters are officially revealed for the upcoming show Justice League Action.
A new Justice League show was previously announced titled
Justice League Action
that would air in 11 minute installments and feature new adventures of the DC heroes and villains. Some of the characters that fans were aware of included Batman, Superman, Wonder Woman Green Arrow, Hawkman, Zatanna, The Flash, Shazam, Blue Beetle, and Plastic Man. (The latter character were "revealed" by silhouette art.) But now, thanks to a photo from the Kre8tif Animation Conference in Kuala Lumpur, Malaysia, fans have their first look at a whole lineup of characters for the show.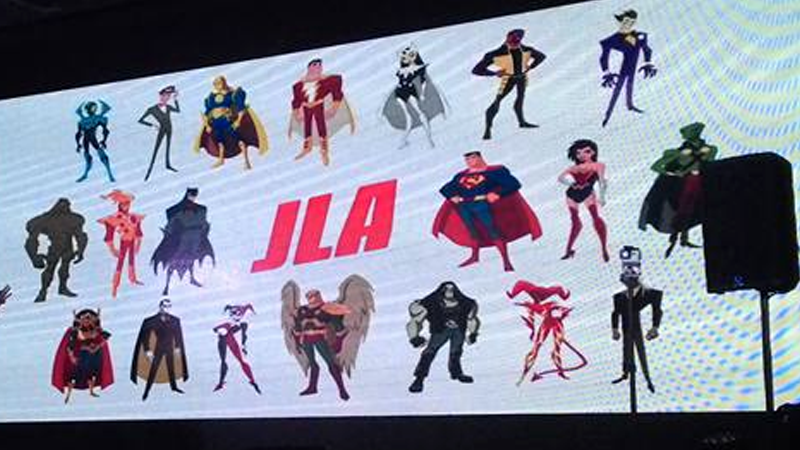 In this picture we can see (starting at the top left going across) Blue Beetle, The Riddler, Doctor Fate, Shazam, Doctor Light, Mr. Terrific, The Joker, Killer Croc, Firestorm, Batman, Superman, Wonder Woman, Martian Manhunter, Big Barda, Zatara(?), Harley Quinn, Hawkman, Lobo, Satan Girl, and Black Mask(?).
That is one very impressive lineup for this show! It was also previously announced that Kevin Conroy and Mark Hamill will return as the voices of Batman and the Joker, respectively with James Woods as Lex Luthor and Diedrich Bader as Booster Gold. This is turning out to be one show you will definitely want to check out!
--------------
Show your support by "liking" and following my Facebook and Twitter accounts. Get the latest news and fun conversations!
Facebook
and
Twitter - RealmBeyondS
Source:
io9